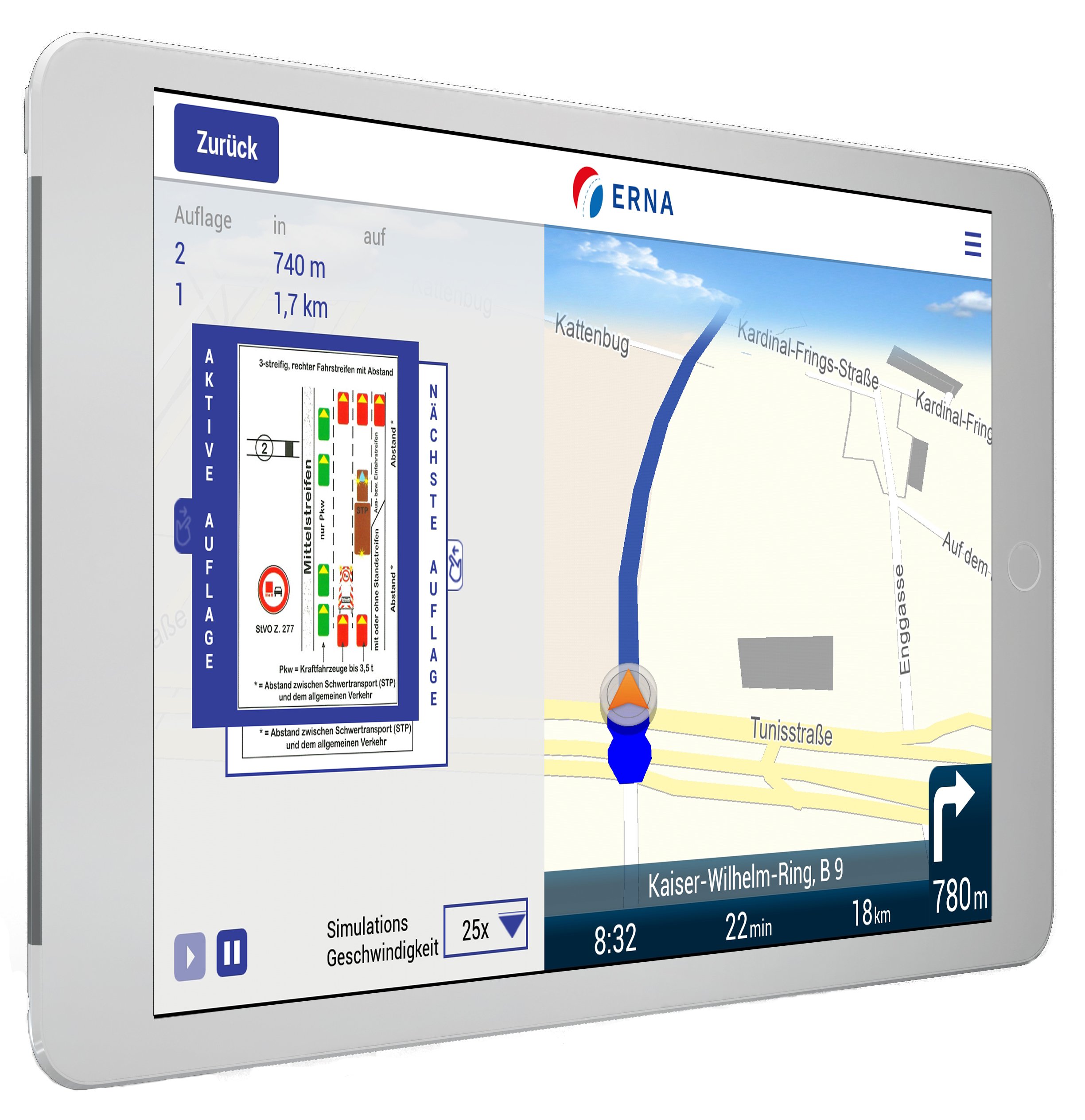 HI, I'M ERNA
ERNA is the certified digital driver assistance for the heavy and high-capacity transport industry. It assists the truck driver and the driver of the accompanying vehicle in complying with the route of the permit/permit and the associated conditions.
ERNA thus provides - like a navigation system - a visual display and an audible announcement of the authorized route and driving conditions and instructions.
ERNA is available in 13 languages.
For a visit to ERNA, please download the ERNA application from the Google Playstore. You can easily book the corresponding ERNA visit by downloading your notification (of any applicant) in the sommer online shop.
For transportation that is accompanied by us, we offer a free tablet service.
BENEFITS AT A GLANCE
SERVICES AT A GLANCE

DIGITALISATION
The permit is scanned in the background in the four-eye system. Special PDF readers have been programmed for this purpose. The login data is sent to the owner of the permit by automated e-mail. 
App
Free app in the Google Playstore. The application is available for all Android tablets of at least 8 inches. The map material is loaded and updated only the first time the application is downloaded and updated.
The Tour
All transport operators (truck drivers, drivers of escort vehicles, police, etc.) simply log in to the application with the login data received, start preparing for the tour and then safely start their tour. 
ERNA - DIGITAL DRIVING ASSISTANCE
In our online Webshop you can easily order your individual ERNA tour. Simply download your notification (of any applicant) and enter your earliest transport date. To order the ERNA tour, please download the ERNA application from the Google Playstore to your Android device. For the first download, we recommend a WLAN connection. As soon as your ERNA tour is created - at the latest by the start date of transport that you have specified - you will receive the access data for your ERNA tour at the postal address given in the online Webshop. With the access data, the driver can easily log in to the ERNA application and load his individual tour. Only a small amount of data is required when loading tours, so that it is possible to do this during the journey with a mobile data connection. The ERNA is always valid 24 hours after the start of the tour. The next 24 hours can be booked directly in the online Webshop or can be re-booked at any time.